Stainless steel valve BJ45W cut-off valve structure features are as follows:
Plug valve cover, rod support and lift stem metal seal.
BJ45W valve body and valve cover connection form
Class150~Class900 uses the plug valve cover; Class1500~Class2500 uses the self pressure seal valve cover.
BJ45W valve cover gasket type
Class150~Class300 valve with stainless steel graphite spiral wound gasket; Class600 valve can be made of stainless steel graphite spiral wound gasket can be used metal ring gasket; Class900 valve can be used metal ring gasket, Class1500~Class2500 valve with self sealing ring.
BJ45W operating mode of thermal insulation stop valve
Under normal circumstances, the use of hand wheel, impact hand wheel or gear transmission mode, according to the user needs to use sprocket drive or electric drive.
Insulation stop valve BJ45W packing seal
Generally, it is used as filler material, and can provide PTFE or composite filler material according to user's requirement. Packing and stuffing the contact surface roughness of 3.2 m, can guarantee the stem and packing contact surface bonded but is free to rotate through the precision machining of the valve stem sealing surface roughness of 0.8 m can ensure reliable sealing valve.
Spring loaded packing impact system
If the customer needs, can be used to fill the spring packing shock system to provide the durability and reliability of packing seal.
Upper seal seat design
All the valves provided by our company have reverse seal design. Under normal circumstances, carbon steel globe valve seat design uses a separate inverted seal structure, the stainless steel valve sealing when the direct processing or welding process. When the valve in the fully open position, the sealing surface is very reliable. Although according to the standard API600 has a reverse seal, but this is not used as a basis for replacement of packing in the case of pressure.
valve seat
Carbon steel valve seat is usually used forged steel material, the sealing surface of the valve seat according to customer requirements for spray welding alloy, NPS is less than 10''valve using a split threaded into the valve seat, if the user needs the welding seat structure may also be provided; NPS = 12 valve seat structure by welding; stainless steel valve seat is generally used integral or in body welding hard alloy after direct machining of valve seat. If the user needs, stainless steel valve seat can also be used in the separation of screw thread and welded seat structure.
Stem design
The whole forging process is adopted, and the minimum diameter is determined according to the standard requirements.
Stem nut
Under normal circumstances, the stem nut material using ASTM A439D2. According to the materials with copper alloy such as user requirements, the valve of large diameter (NPS = 10''Class150; NPS = 8''Class300; NPS = 6''Class600; NPS = 5''Class900), stem nut and stem bracket design of rolling bearings, can effectively reduce the torque of the valve opening closing valve can easily switch.
Special stop valve
First, BJ45H/W angle insulation valve overview:
The valve is suitable for chemical industry, chemical fertilizer industry pipeline, the jacket into the steam can prevent the crystallization of the media.
Two, BJ45H/W angle type stop valve structure:
Three, BJ45H/W angle insulation valve design standards:
Design and manufacture: GB12233
Flange size: JB/T79 GB9113
Structure length: GB12221
Inspection and testing: GB/T13927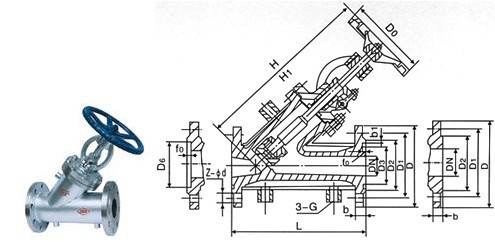 Four, BJ45H/W angle insulation valve performance specification:
型號

公稱壓力

試驗壓力

適用溫度

適用介質

保溫套壓力

Shell

Seal

BJ45W-25P

2.5

3.75

2.75

≤200

Acetic urea

≤1.3

BJ45W-40P

4.0

6.0

4.4

BJ45W-64P

6.4

9.0

6.6

Acetic urea

BJ45W-25P

2.5

3.75

2.75

BJ45W-40P

4.0

6.0

4.4

BJ45W-64P

6.4

9.0

6.6
Five, BJ45H/W angle insulation valve main parts material:

零件名稱LTEM

ZG1CR18NI9TI系列

ZGOOCR18NI10系列

ZG1Cr18Ni12MO2Ti系列

ZGOOCR17NI14MO2系列

WCB系列

閥體/閥蓋世BODY/CAP

ZG1CR18NI9TI

ZGOOCR18NI10

ZG1Cr18Ni12MO2Ti

ZGOOCR17NI14MO2

WCB

閘板WEDGE

ZG1CR18NI9TI

ZGOOCR18NI10

ZG1Cr18Ni12MO2Ti

ZGOOCR17NI14MO2

1Cr13

閥桿STEM

1CR18NI9TI

00cr18ni10

1CR18NI12MOTI

OOCR17NI14MO

1Cr13

填料PACKING

PTFE紡織

PTFE紡織

PTFE紡織

PTFE紡織

石墨
GRAPHITE

墊片GASKET

304L+PTFE

304L+PTFE

316L+PTFE

316L+PTFE

石墨+304
GRAPHITE+304

壓蓋GLAND FLANGE

ZG1CR18NI9TI

ZG00CR18ni10

ZG1Cr18Ni12MO2Ti

ZGOOCR17NI14MO2

WCB

填料壓環
STUFFING RING

1CR18NI9TI

00CR18NI10

1Cr18NI12MOTI

OOCR17NI14MO

1Cr13

螺栓BOLT

1cr17ni2

1CR17NI2

1Cr17NI2

1Cr17Ni2

35CrMoA

螺母NUT

1cr18ni9ti

1CR18NI9TI

1Cr18NI9ti

1Cr18NI9ti

45
GB 2.5MPa

DN

15

20

25

32

40

50

65

80

100

125

150

L

170

190

210

230

260

300

340

380

430

-

550

H

260

310

375

375

385

450

485

600

625

735

790

D0

120

140

160

160

160

240

240

280

320

360

360

GB 4.0MPa

DN

15

20

25

32

40

50

65

80

100

125

150

L

170

190

210

230

260

300

340

380

430

-

550

H

260

310

375

375

385

450

485

600

625

735

790

D0

120

140

160

160

160

240

240

280

320

360

360

GB 6.4MPa

DN

25

32

50

65

100

150

L

235

260

300

340

430

415

H

375

385

450

510

670

670

D0

160

160

240

240

400

400